5N/6D - Chardham Yatra By Helicopter
Dehradun, Uttarakhand
(586 Reviews)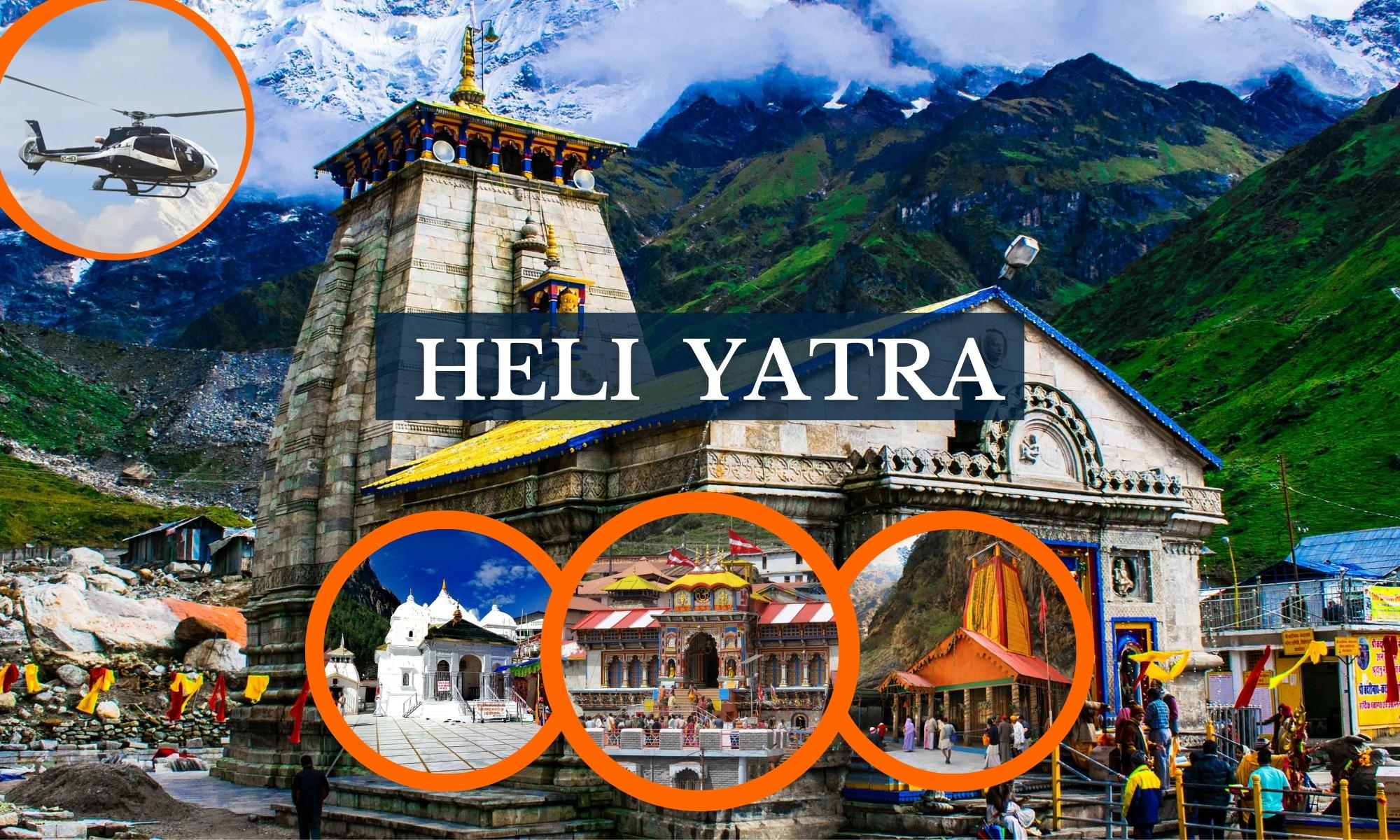 6 Days
Wifi Available
Feb '23 - Jul '23
Min Age : 10+
Pickup : Airport
Description
Chardham Yatra is one of the most sacred pilgrimage in India. It includes visiting of four Chardham Temples - Kedarnath Temple, Badrinath Temple, Gangotri Temple and Yamunotri Temple. Each of these Chardhams are located in high altitude mountains in Uttarakhand and can be reach via road or air route.
As Chardham route is very much long and can take upto 10-12 days to cover by road, many pilgrims prefer to visit Chardham Yatra by Helicopter. Preferably old age pilgrims or who have not enough time to cover by road, Helicopter service to Chardham Yatra is much beneficial.
Check list of best helicopter tour packages 2022 for Char Dham Yatra by helicopter. Book Chardham Yatra Helicopter Packages with complete customize itinerary from take off helipad to accommodation in Chardham Hotels. Get best Helicopter service to Chardham with Ek Dham, Do Dham, Teen Dham or all four Chardhams. Following is the list of heli tour packages for Do Dham, Chardham, Kedarnath, Badrinath, Gangotri & Yamunotri.
Here is the list of best helicopter Char Dham travel packages for you covering Chardhams, Do Dhams and each dham separately. You can select best package for Chardham helicopter tour from Delhi, Dehradun etc and contact us for advance bookings.
Note: The helicopter package price, duration, number of nights and schedule are subject to change without prior notice.
Inclusions
Accommodation
Meals
Transport
Sightseeing
Exclusions
Flights
Entrance Fee
Guide Fee
Any Private Expenses
Itinerary
Day 1 - Arrival Day (Dehradun)
Welcome to Dehradun, Upon arrival at Dehradun airport or railway station, our driver cum guide will receive you and transfer you to the hotel for a complimentary stay. Spend the day to relax after a smooth check-in process and sleep homely for an exciting tomorrow.
Day 2 - Dehradun to Yamunotri
Early morning, we will transfer you to the state government helipad on Sahastradhara Road, Dehradun from where we will fly for Yamunotri. Upon arrival at Kharsali (Yamunotri), you are welcomed by our handlers; they will unload your baggage and take you to the hotel. Relish a fresh breakfast and leave for darshan in palki/pony to Yamunotri temple which is around a 5 km trek. Enjoy your ride with the glory of nature! After divine darshan, you'll return to the hotel by lunchtime. Have your lunch and spend a few hours of relaxing. In the Evening pay a visit to ancient Shani Temple (subjected to time and weather) nearby and spend the night at your hotel, after having dinner.
Day 3 - Yamunotri to Gangotri
Our handlers will take you to the hotel. After an Early morning breakfast, you'll leave for Gangotri temple VIP darshan in Cab which is 20 km away from hotel. Tune yourself to the high altitude and enjoy the picturesque paradise on earth; Gangotri Dham. You'll get all the basic and leisure facilities such as premium accommodation with ensuite washrooms, delicious vegetarian food, Short walks and local sightseeing around the beautiful unexplored valley. Your second day ends with a freshly prepared dinner and an evening bonfire before falling asleep. After an early morning breakfast, you'll leave for Kedarnath (It is recommended to take heavy breakfast at Harsil as we will directly go to temple at Kedarnath and come back around 3:00 – 4:00 PM).
Day 4 - Gangotri to Kedarnath
Welcome to the mountain of amalgam of spirituality.The natural peace, religious zest, and snow-capped peaks of Kedarnath Dham will enchant your heart and making it most heritage site among all Chardham.You will arrive at Guptkashi/phata helipad from Gangotri, after changing the chop- per you'll fly for Kedarnath which is 10 minutes flying from Guptkashi. You may have to wait sometime for 10 minutes to 3 hours during chopper change because of shuttle slots/weather or technical reasons. As you reach the kedarnath, You will witness the beauty of changing colors in the sky. Our handlers and Panditji shall take you for VIP Darshan and Jal Abhishek in the Kedarnath Temple. Your stay is arranged at Guptkashi, After darshan we will take you from Kedarnath helipad to Guptkashi / Phata Helipad. Another day of your chardham yatra tour ends in the land of kedara with delicious dinner. Sleep snug to energize yourself for another beautiful day.
Day 5 - Kedarnath to Badrinath
Head to the beautiful city of Narayan, Badrinath.On the fourth day of your chardham package itinerary, you'll be heading to Badrinath and on the way you'll see the deepvalleys and majestic view of lofty Himalayas.Upon arrival at Badrinath helipad, Our handlers will transfer you to the Hotel where you can relish your breakfast / lunch and pay visit to Badri Narayan VIP darshan.Our handler will take you for tem- ple in evening for vishnusahasar- nam path.Spend leisurely hours in the Mana Village which is near to religious site of Badrinath.End your day with the comfortable stay and delectable dinner at your hotel.Make the best out of your religious trip by cherishing the Valley of Lord Narayan from close quarters."
Day 6 - Return to Dehradun
In the morning after having a hearty breakfast, bow your head to Badri Narayan tem- ple and fly back to Dehradun with positive vibes and pleasant memories of Chardham Yatra by helicopter package. Timings are tentative and may get changed subjected to permissions and weather condi- tions. We recommend you to book your return flight one day later.